16
« on: May 01, 2012, 06:13:31 AM »
Last Edit: January 29, 2013
by PierreP: Guys, this thread is old and the whited00r & Redd00r Repo
http://www.repod00r.com/
is in the process of being updated and a new repository manager will be chosen soon.
Some apps & deb files in the current Repo are old and one must be
cautious
before blindly installing anything on the
current whited00r 6
. For example:
Do not install
Old Store
and especially NOT
3Store (New)
as it will break whited00r 6 > App Market > access to App Time Machine & Cydia.
If you did break it by installing that
outdated & WD 6 incompatible 3Store Installer
, read this to fix it:
[Solved] I Broke App Time Machine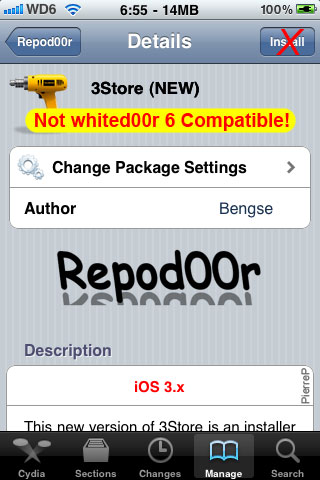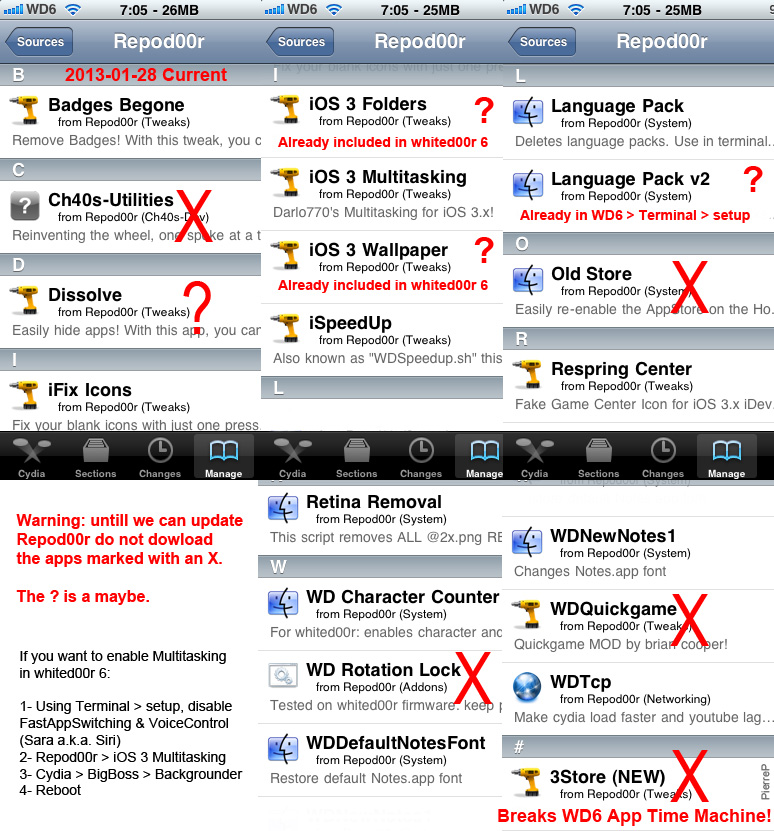 Don't use:
Ch40s-Utilities (get it from my repo as that's the only up to date one) -- My repo is now down
Old store (probably breaks stuff with the newer layout :/ )
WD RotationLock (old uses activator and yeah... for whited00r 4.x I think...)
WDQuickGame (very very old. Just use Override).
3Store (Use apptimemachine -__- )

Maybe alright to use:
Dissolve (I know the command-line side of it works fine)

Aside from that I think everything is alright

=====================================
As of now, I am the new Repod00r repository manager!
(currently not active, too busy with other activities)
Here are some guidelines and requirements if you want your packages to make it into the repo...
Guidelines:
You need to send me a .zip file of the package you want in the repo! No pre-created deb files unless approved by me or Matt. The package needs to be ready to build (include the control file and any postinst or postrm files necessary)
The control file

MUST

contain a FULL description with any support/donation links, and instructions if needed.
If you want screenshots, you MUST include your OWN screenshots. Otherwise, no screenshots will be given.
You

MUST

provide a full changelog or any and all important and recent changes.

ANY failure to comply with these guidelines, will result in immediate rejection of your application/tweak. The only exceptions, are whited00r exclusive tweaks such as Reminders, Newsstand, etc.
Upload Instructions:
1. Please upload to a secure uploading site. (NO Adfly, or surveys), preferably MediaFire.
2. Then send me the link of the UN-Built package.
3. Please use this control file template to create your control file. (Do not change the layout of the control file) (This makes processing your package 75% faster!)
Download the 'control' file template
here
Please send the download links to
[email protected]