16
« on: September 27, 2013, 05:17:07 PM »
ok Now i Downgraded BB and followed the steps but now when i restore Ios 3.1.3 Problem 1015 Came and now im in recovery mode (usb and itunes on the screen ) and i dunno how to solve that PLZ help



If you would have followed the link I posted above in Reply #10, you can see that you can use
iREB r6 for Windows
to get out of iTunes error 1015 Recovery Mode Loop.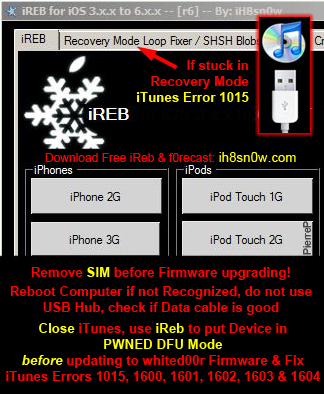 Last Question : do i can install whited00r on ios 4.2 ? or what will happen if i do that

Yes. See link in Reply #10.
Whited00r will overwrite iOS 4.2.1 and your device will be faster & with more features. See here:
Whited00r 6 - FAQ & Troubleshooting - READ BEFORE POSTING!
with answers to many questions you might have and it includes info about how to enable or disable Whited00r features.